Meet the team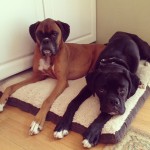 Our mission at Coastal Pet Sitting is to provide a high level of care and expertise for you and your pet …. sacrificing quantity for quality. Whether you work all day or travel frequently, Coastal Pet Sitting will be there at your home, where your pet is most comfortable, and provide all the food, water, medication, playtime, and exercise needs.
Whether it's walking your dog to his favorite grassy spot, or giving your cat her daily brushing, keeping your pet to his or her daily routine reduces their stress while you're away. Coastal Pet Sitting always meets with a new client before any pet sitting takes place to make sure we get a clear understanding of the daily routine your pet is used to.
To give you peace of mind, we provide you updates while you're away and if necessary, we can even provide overnight care.
Coastal Pet Sitting has been in business since August 2005. Owner Kim Belliveau is a Certified Veterinary Technician with over 15 years experience in the field and all of her associates are insured and bonded through Pet Sitters Associates, LLC.  We also perform background checks on all new team members.
We have associates around the New Hampshire Seacoast area so that we can provide pet-sitting services to our clients in southern New Hampshire and northern Massachusetts towns such as Brentwood, Epping, East Kingston, Kingston, Danville, Hampstead, Exeter, Newfields, Newmarket, Stratham, Fremont, Raymond, Seabrook, Salisbury, Hampton Falls, Hampton, North Hampton, Newton, Amesbury and Plaistow. Contact us today to set up a consultation!
---
"Kim has been taking wonderful care of my two cats for a couple of years now. I travel quite a bit for business and it gives me such peace of mind to know that someone as caring as Kim is looking after them. She interacts and cares for them in the same way I do and is great about leaving a report card of how they were every day that I'm away. It's also so helpful to have someone checking on my home while I am away".
"I also value that Kim was a vet tech and I know she would have good judgment, should anything unusual or an illness come up. I recommend Kim to everyone who is looking for a pet sitter. Thank you, Kim!"
– Bobbi, Fremont, NH
---