Pet Sitting Services
Coastal Pet Sitting offers a variety of pet sitting services for your large and small animals. Please contact us if you have questions or would like to set up a consultation appointment.
Veterinary Technician on staff
Insured and Bonded through Pet Sitters Associates, LLC
Free ½ hour initial consults
Timetopet app digitizes your pet sitting experience
Text/email updates sent to you while you are away
Daily report cards completed and left for your review
Pet Sitting/Dog Walking Visits:
30 minutes:  $28.50
45 minutes:  $41.25
60 minutes:  $55.00
Households with more than 2 pets will be charged $5.25 for each additional pet.
Multiple Visits/day:
30 minutes:  $27.00 each
45 minutes:   $40.00
60 minutes:  $53.50
Transportation: $30
Overnight Stays:
Based on availability.  Does not include any visits from 7am thru 7pm.  Those are scheduled separately. 
7pm to 7am      $130.00
Mileage fees:
$.50/mile if travel is outside an 8 mile radius
Holiday Fees:
I pay my employees double time on all holidays, and therefore each visit will reflect that increase on the following days:
Holidays include: Easter, Memorial Day, July 4th, Labor Day, Thanksgiving, Christmas eve and day, New Year's Eve and Day.
Medicating*:
Most medications are administered at no charge. Please ask for an estimate.
House Sitting (no pets):
$25.00 per visit
---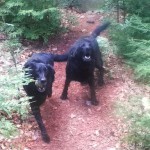 "My wife and I have worked with Kim Belliveau and her great staff for many years now since we've moved to Epping. We both have full time jobs and two young boys in daycare. Our jobs do afford us the flexibility to work from home occasionally, so our schedule is constantly a balancing act. Kim and Coastal Pet Sitting have been so great to work with accommodating our schedule and providing top quality care for our dogs".
"Coastal Pet Sitting isn't just a great service by allowing us convenient access to dog walking, grooming, nail clipping, and overnight pet sitting. Kim's dog TuTu and our 2 dogs Matty and Diego (also big black labs) have tons of fun on their daily walks! We are very, very grateful to have Kim and Coastal Pet Sitting here in our area. Please consider Coastal Pet Sitting for your dog(s) as highly recommended from long-time satisfied customers! Thanks, Kim!"
– John and Jenifer, Epping, NH
---